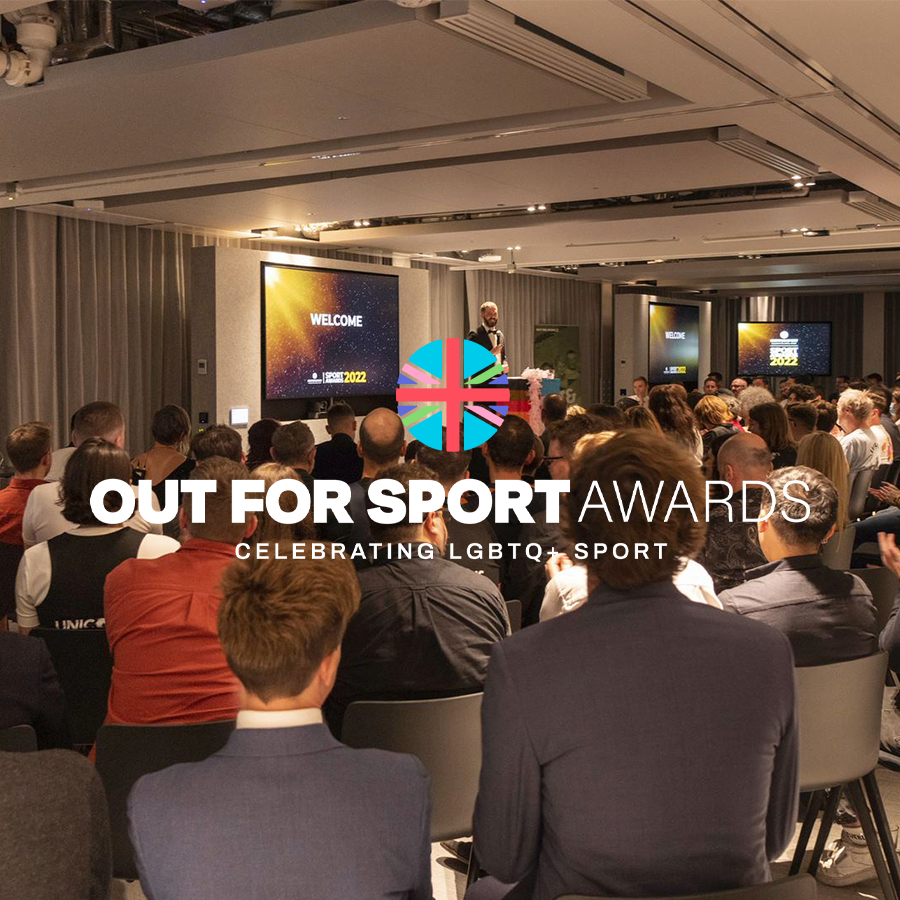 Out for Sport Awards 2023
The Out For Sport Awards is an evening dedicated to celebrating the remarkable achievements and contributions of LGBTQ+ sports clubs, teams and individuals.
The entries for the Out For Sport Awards have officially closed. We'd like to thank all member clubs who submitted their nominations to celebrate the remarkable achievements and contributions of LGBTQ+ sports clubs, teams, and individuals. Your participation was greatly appreciated.
Why Enter the Out For Sport Awards?
The opportunity to enter the Out For Sport Awards and be acknowledged for your outstanding contributions within the LGBTQ+ sports community has come to a close. We appreciate all the nominations received and thank you for your commitment to LGBTQ+ sport and individuals. The winners will soon be announced and their accomplishments will be celebrated at an unforgettable awards ceremony, boosting their clubs' profiles, attracting new members and sponsors, and inspiring others to elevate LGBTQ+ sports. Thank you for your participation in this inspiring celebration of talent, diversity, and achievement.
2023 Key Dates
Award Entries Closed: Friday 1st September
Shortlist Announcement: Friday 22nd September 2023
Awards Evening: Friday 24th November 2023 (location to be announced shortly)
Club Award Categories
Club of the Year
This award recognises an established LGBTQ+ club for an incredible year of hard work and brilliant support to its members. No matter the size, if your club has done some outstanding things, this is the award for you.

Emerging Club of the Year
This award is for the club that is under three years old and doing show-stopping things. Building a club from the ground up is tough work, so you deserve some recognition for all you do.
Most Inclusive Club
This award recognises clubs that have embraced and embedded the principles of equality, diversity and inclusion within their day-to-day club business, resulting in a diverse and happy membership base.
Tournament / Competition of the Year
This new award celebrates OFS member clubs that organise and execute incredible tournaments and competitions that leave a lasting impression on the community and their members.
Note: You cannot enter both Club of the Year and Emerging Club of the Year. Also, if your entry is more focussed on a team's achievement within your club, consider entering the Outstanding Sporting Achievement for a Team Award instead. 
Team Award Categories
Team of the Year
For the team that embodies the spirit of the club and leads by example in its field. We want to uplift and support the best of the best within LGBTQ+ sport.
Outstanding Sporting Achievement for a Team
This award specifically recognises the achievements of a team within a club in their competitive ventures. If your team has improved your stats, exceeded expectations, or showcased exceptional performance in a competition, this award is for you. The best part? You don't necessarily need to have won anything to be eligible. Just demonstrate your outstanding accomplishments.
Individual Award Categories
Outstanding Sporting Achievement for an Individual
For the individual who has achieved greatness within the last twelve months, whether through sporting events, personal growth or supporting others to achieve greatness.
Club Spirit
This award seeks to recognise the unsung hero within your club who makes it all happen and embodies everything your club stands for each and every day.
Ivan Bussens Lifetime Achievement
In memory of Ivan Bussens (OFS co-founder), this award recognises individuals who have gone above and beyond to create environments in which LGBTQ+ sport can thrive. This award may also acknowledge the memory or legacy of individuals who are no longer part of an OFS member club but their impact continues to inspire and shape the sporting community.
Best of Luck
Let's come together to celebrate the passion, dedication and accomplishments within our LGBTQ+ sporting community. For any questions or clarifications, please email the OFS Awards team.